SABATO 25 FEBBRAIO 2023
PRESSO IL TEATRO NUOVO A DOGANA, REPUBBLICA DI SAN MARINO
IL VINCITORE ACCEDERA' ALL'EUROVISION SONG CONTEST 2023 A LIVERPOOL
"Una voce per San Marino", giunto alla seconda edizione, è il festival nato su iniziativa della Segreteria di Stato per il Turismo, Poste, Cooperazione ed Expo della Repubblica di San Marino in collaborazione con Media Evolution Srl. And San Marino RTV, Radiotelevisione della Repubblica di San Marino.  La selezione è avvenuta in un'unica grande categoria per il Paese più piccolo in gara all'Eurovision Song Contest.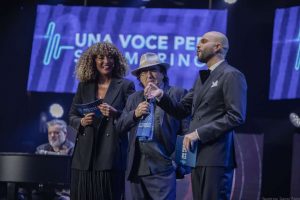 Coniugare la territorialità, la partecipazione di nuove proposte e la presenza di artisti già affermati: il tutto all'insegna della qualità musicale e della capacità di A Voice for San Marino di rappresentare un trampolino di lancio per gli artisti emergenti nel panorama musicale internazionale.
Sono stati selezionati oltre 106 semifinalisti (vedi link), ma saranno solo 22 gli artisti che si sfideranno durante la finale. 
La giuria della fase semifinale è composta da:
Mimmo Paganelli: produttore indipendente e consulente musicale. Direttore artistico della EMI. He collaborated with Rino Gaetano, My Martini, Ivan Graziani, Lucio From the, Francis De Gregori, Renato Zero for the RCA, Vasco Rossi, Francis Guccini, Roberto Elders, Franco Battiato, Angel Branduardi, Ivano Moats, Titian Iron, Mango, Edward Bennato, Stadium for the EMI.
Christine Grimandi: performer internazionale coach, casting director. Interprete nazionale e internazionale dei musical più importanti come Cats, Beauty and the Beast, Sunset Boulevard, Promessi Sposi, Tutti Insieme Appassionatamente, Grand Hotel. Ha lavorato con importanti direttori d'orchestra, registi e coreografi in Europa e in Inghilterra. Dirige la Global Arts, l'Accademia online di musiclife.live.
Emilio Munda: produttore, compositore e autore per Il Volo, Umberto Tozzi, Francis Renga, Nina Zilli, The nomads, Michele Bravi, Paolo Meneguzzi, Dear Jack, Gemelli Diversi , Valerio Scanu e per altri artisti di talent come The voice, Friends And Xfactor. Ha conquistato diversi Discs Gold and of Platinum, per due volte consecutive vince il podio al Festival from Sanremo.
Lia Fiorio: coordinatrice responsabile di Radio San Marino da pochi mesi, speaker ed intrattenitrice radiofonica da una vita, commentatrice in italiano dell'Eurovision for San Marino RTV dal 2008 (con Gigi Restivo detiene il record per numero di serate), conduttrice di programmi tv, si occupa anche della creazione di format radiofonici. Ha una conoscenza della storia della musica pop-rock italiana e straniera grazie all'esperienza lavorativa nel campo radiofonico.
Senatore Cirenga: cantautore, linguista, autore di canzoni e videoblogger eurovisivo, dal 2012 attivo sulla scena musicale italiana con differenti progetti ed esplorando diversi generi. Nel 2021 pubblica il suo album d'esordio che si posiziona alla #2 of the classifica Alternative/Indie e alla #10 della classifica Top Albums su iTunes Italia. Nello stesso anno, pubblica il singolo Estate Ladra. Nel 2022 firma un contratto d'esclusiva editoriale come autore per BMG Italy.
I biglietti per accedere alla serata di sabato 25 febbraio 2023, che sarà condotta da Jonathan Kashanian con Senhit sarà trasmessa in diretta a partire dalle ore 21 su San Marino RTV, sono disponibili su Viva Ticket. Il presidente di giuria della finale sarà Al Bano. (Red&Blue)