One Voice for
San Marino
The Format
Combining territoriality, the participation of new proposals intended as emerging artists and the presence of established artists; all in the name of quality, musical effectiveness, the ability of the Festival Una Voce per San Marino "Eurovision" to represent a springboard in the international music scene.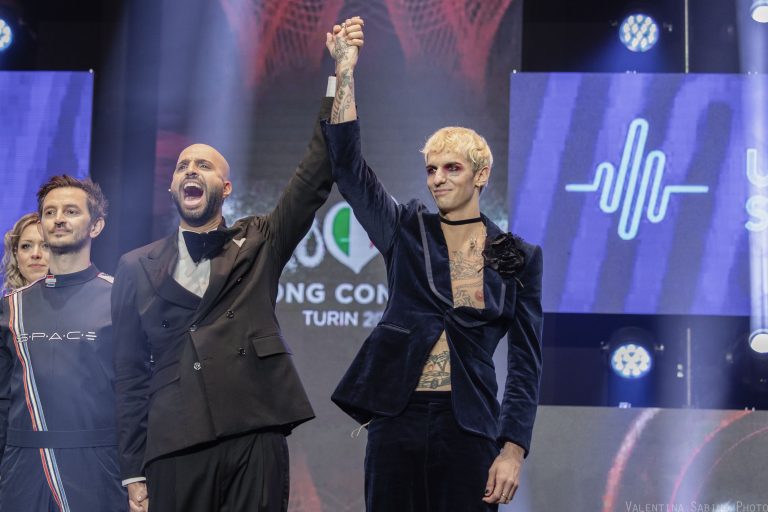 MEDIA EVOLUTION is a company under San Marino law based in Via III Settembre, 67 - San Marino, SM 47890
Sole director Denny Montesi with San Marino citizenship.
The company has a shareholding structure consisting of:
• Astralmusic Srl
• Claudia Simoni
• Montesi Denny
Astralmusic Srl è: agenzia di rappresentanza artistica per tutti gli operatori dello spettacolo. La società opera principalmente nei settori di consulenza artistica e fiscale, produzione discografica, accademia musicale, promozione e organizzazione eventi con sede legale a Castelplanio nelle Marche e altre sedi a Roma, Milano, Londra e Doha in Qatar. Astralmusic collabora da sempre con le più grandi realtà a livello musicale fra cui Universal Italia, Rai, Mediaset, Vivo
Concerti and Saludo, he also develops projects for orchestras, show companies and theaters. He has provided advice to the musicians for the tours of Ultimo, Bocelli, Laura Pausini, Giorgia, Max Gazzè, Tiromancino, Simone Cristicchi, Ron, Raf / Tozzi, De Gregori, Alex Britti, Carmen Consoli and Luca Barbarossa, to the productions of musicals such as Notre Dame de Paris and Add a Seat at the Table, to the Italian Cinema Orchestra for Christmas in the Vatican, Renato Zero and Claudio Baglioni, to TV productions such as Netflix TV2000, Goldenart Production, San Marino TV and Armchairs and Sofas; provided the artistic staff for Just Cavalli and Mia Clubbing; he has made artistic productions and soundtracks for Rai, Mediaset and Sky; has co-organized major events in Qatar such as Diamond Platnumz Live 2019 at Al Jawhara Ballroom Intercontinental, Doha BandFest 2018 at Beach Side Intercontinental and IWED 2017 at Doha Exhibition Center.
Astralmusic is also Astralmusic Academy, a highly professionalizing artistic and musical academy, a large and varied team of national and international teachers, issuing European certifications that allow you to practice teaching throughout the European Union. Astralmusic has achieved musiclife.live, the new digital platform created for professional training in entertainment and music, as well as being a "meeting place" for musicians, singers, composers, directors, actors, professionals, producers and all music lovers. In collaboration with the best teachers of the West End of London of the Global Arts Academy and with the National Music Schools of Milan.
Website: www.astralmusic.it
The offices:
Castelplanio (An) – ITALY – Via del Commercio, 1 – 60031 Italy
tel. +39 0731814981 - mail: info@astralmusic.it
Rome - ITALY - Via Sistina, 121 - 00187 Italy
tel. +39 06 47818490 - mail: info@astralmusic.it
Milan - ITALY - Via Monte Napoleone, 8 - 20121 Italy
tel. +39 02 30316956 - mail: info@astralmusic.it
London - UK - Level 30, The Leadenhall Building 122 Leadenhall Street - City of London EC3V 4AB United Kingdom
tel. +44 (0) 2037535571 - mail: info@astralmusic.it
Doha - QATAR - Level 21, Burj Doha West Bay, PO - Bovx: 27110
tel. +974 40316649 - mail: info@astralmusic.it
Nur-Sultan - KAZAKHSTAN - Level 30, The Leadenhall Building 122 Leadenhall Street - City of London EC3V 4AB United Kingdom
tel. +44 (0) 2037535571 - mail: info@astralmusic.it
Denny Montesi he is fascinated by the show-biz and begins to organize concerts, and then landed in the world of the night, becoming the youngest entrepreneur in the sector.
With courage and a pinch of healthy recklessness he opens successful clubs, restaurants and entertainment venues, all activities that faithfully reflect his extroverted, enthusiastic soul, full of vitality and full of a human charge that he pours on an unspecified number of people around him. him who adore and esteem him. Subsequently he founded two advertising, communication and entertainment companies and a nautical and aeronautical services company. In recent years he began to produce energy from renewable sources, dedicating himself in particular to photovoltaic, wind and biomass, and then came to found some electricity production companies.
He is madly in love with technological innovation, financial revolutions, and is always striving to stay one step ahead of the mainstream and everyday legends.
Everyone recognizes in Denny his gift as a straightforward man; the worlds he frequents and his exuberant character consecrate him as a natural "glue" between groups, generations, different planets, various humanity and its
undeniable prowess means that at times it is others who are able to involve him
in communication operations and in advertising fields.
Games village srl via ravennate 4220. real estate owner of partner sports center al50%
Finenergy srl photovoltaic energy production 100% registered office in Cesena, director and sole shareholder
Synenergy srl wind energy production Cesena registered office Shareholder 20% and sole director
tesla srl partner 51% and director. Electricity trading company (firm company)
Lily decor srl (Milan) furnishing accessories company. Sole director of the group in Italy.
Parent Company (Ukraine)