One Voice for
San Marino
The Format
Combining territoriality, the participation of new proposals intended as emerging artists and the presence of established artists; all in the name of quality, musical effectiveness, the ability of the Festival Una Voce per San Marino "Eurovision" to represent a springboard in the international music scene.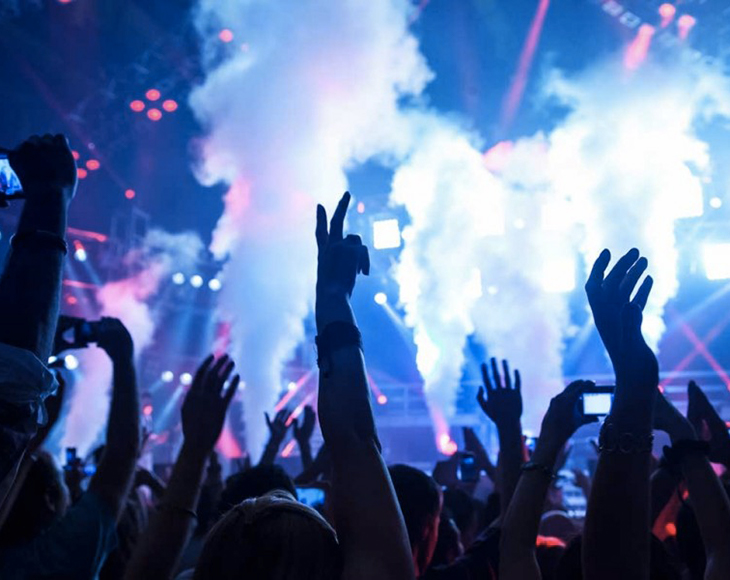 MEDIA EVOLUTION is a company under San Marino law based in Via III Settembre, 67 - San Marino, SM 47890
Sole director Denny Montesi with San Marino citizenship.
The company has a shareholding structure consisting of:
• Astralmusic Srl
• Costa Vittorio
• Montesi Denny
Astralmusic Srl is: artistic representation agency for all entertainment operators. The company mainly operates in the fields of artistic and tax consultancy, record production, music academy, promotion and event organization with registered office in Castelplanio in the Marche region and other offices in Rome, Milan, London and Doha in Qatar. Astralmusic has always collaborated with the greatest musical realities including Universal Italia, Rai, Mediaset, Vivo
Concerti and Saludo, he also develops projects for orchestras, show companies and theaters. He has provided advice to the musicians for the tours of Ultimo, Bocelli, Laura Pausini, Giorgia, Max Gazzè, Tiromancino, Simone Cristicchi, Ron, Raf / Tozzi, De Gregori, Alex Britti, Carmen Consoli and Luca Barbarossa, to the productions of musicals such as Notre Dame de Paris and Add a Seat at the Table, to the Italian Cinema Orchestra for Christmas in the Vatican, Renato Zero and Claudio Baglioni, to TV productions such as Netflix TV2000, Goldenart Production, San Marino TV and Armchairs and Sofas; provided the artistic staff for Just Cavalli and Mia Clubbing; he has made artistic productions and soundtracks for Rai, Mediaset and Sky; has co-organized major events in Qatar such as Diamond Platnumz Live 2019 at Al Jawhara Ballroom Intercontinental, Doha BandFest 2018 at Beach Side Intercontinental and IWED 2017 at Doha Exhibition Center.
Astralmusic is also Astralmusic Academy, a highly professionalizing artistic and musical academy, a large and varied team of national and international teachers, issuing European certifications that allow you to practice teaching throughout the European Union. Astralmusic has achieved musiclife.live, the new digital platform created for professional training in entertainment and music, as well as being a "meeting place" for musicians, singers, composers, directors, actors, professionals, producers and all music lovers. In collaboration with the best teachers of the West End of London of the Global Arts Academy and with the National Music Schools of Milan.
Website: www.astralmusic.it
The offices:
Castelplanio (An) - ITALY - Via del Commercio, 1 - 60031 Italy
tel. +39 0731814981 - mail: info@astralmusic.it
Rome - ITALY - Via Sistina, 121 - 00187 Italy
tel. +39 06 47818490 - mail: info@astralmusic.it
Milan - ITALY - Via Monte Napoleone, 8 - 20121 Italy
tel. +39 02 30316956 - mail: info@astralmusic.it
London - UK - Level 30, The Leadenhall Building 122 Leadenhall Street - City of London EC3V 4AB United Kingdom
tel. +44 (0) 2037535571 - mail: info@astralmusic.it
Doha - QATAR - Level 21, Burj Doha West Bay, PO - Bovx: 27110
tel. +974 40316649 - mail: info@astralmusic.it
Nur-Sultan - KAZAKHSTAN - Level 30, The Leadenhall Building 122 Leadenhall Street - City of London EC3V 4AB United Kingdom
tel. +44 (0) 2037535571 - mail: info@astralmusic.it
Costa Vittorio is: Knight of the Italian Republic - Supreme Court Lawyer: Registration No. 2405 (registration of 23/11/1992) with office in Bologna - Auditor Uff. of the accounts: Registration No. 16410 (Ministerial Decree of 12/04/1995, published Official Gazette 21/04/1995, File 31 / Bis) -Military Service: AUC Military School of Aosta Course 101: Service S.Ten Complemento Btg Alp. Feltro (later Lieutenant from 1980)
Some current professional positions: Supervisory Board Member of the SIAE - Member of the Music Commission - Official Review by appointment of the President of the Court of Bologna, of the Bologna Bar Association - Legal Officer of FIPI (International Intellectual Property Federation) based in Milan
The beginning of the profession dates back to 1981, with a corporate civil law address and related tax aspects. Having friends in the show as a student and as a professional, having various contacts with the operators of the sector, he begins to work as a consultant, for their needs of corporate / associative structures for the most varied activities, such as organization of exhibitions, concerts, shows of musical companies for tours, in addition to the editorial and phonographic aspects, both in Italy and abroad. Therefore, he studied the various themes connected to the show, specializing in copyright.
Thus began the first consultations from the Carnival of Cento, at the Tenda Theater in Bologna (inaugurated by Nureyev), at the reference agency of the Bolognese cabaret, Le Dada Umpa Spettacolo (Gemelli Ruggeri) at the Pistoia and Scotti theater production agency and television (Gioele Dix and others) to then land with the Cremonini brothers (Anna agency of Luci Dalla-Ron etc and Renzo the manager / producer of Lucio Dalla) and then 051 (Willy David agency specialized in Pino's live and record productions Daniele-Tony Esposito-Tullio De Piscopo and others)
to then become the legal and business affair of primary artists such as Zucchero from 1985, Angelo Branduardi from 1987, Carboni from 1989, Vasco Rossi from 1990, Jovanotti from 1991 and many others including Alexia, with whom he won the Sanremo Festival, Katia Ricciarelli, Gino Paoli, Patty Pravo etc etc up to Elettra Lamborghini. Not to forget the television productions such as Roxy-Bar - Help by Red Ronnie, obtaining 3 Telegatti, and television personalities such as Mara Maionchi ocinematografici such as, most recently, Nunzio and Paolo.
But the gratification from important producers of international artists was not lacking since with Fran Tomasi many tours were made (Tour Simple Minds, Simply Red, Eurythmics, Annie Lennox, Tina Turner and many others including U2 and Pink Floyd) or the Bologna cabaret. Dada Umpa / Pistoia and Scotti, on behalf of Amnesty International, followed the Italian leg of USA for Africa in Turin; event attended, in particular, by Bruce Springsteen, Tracy Chapmann, Sting, Claudio Baglioni)
He, on behalf of Pink Floyd, collaborated in the realization of the concert in Venice with filming for the world-vision and other events and not least the Modena Park.
It counts among its customers, given the specialization that has occurred over time, Artists, Musicians, Authors, Phonograph Producers, Arrangers - Orchestra Directors, Music Publishers - Cinematographic, all of great fame, who receive legal advice and assistance relating to their professional activity. , in the management of the initiatives and activities undertaken in the phonographic, editorial and live fields.
Some Associative Positions in the ANA (registered since 1981): Group Head of the Bologna Group for 6 years - President of the Bolognese-Romagnola Section for 6 years - National Councilor for 6 years with two years as National Vice President - Again President of the Bolognese-Romagnola Section from 2013 to today.
Denny Montesi he is fascinated by the show-biz and begins to organize concerts, and then landed in the world of the night, becoming the youngest entrepreneur in the sector.
With courage and a pinch of healthy recklessness he opens successful clubs, restaurants and entertainment venues, all activities that faithfully reflect his extroverted, enthusiastic soul, full of vitality and full of a human charge that he pours on an unspecified number of people around him. him who adore and esteem him. Subsequently he founded two advertising, communication and entertainment companies and a nautical and aeronautical services company. In recent years he began to produce energy from renewable sources, dedicating himself in particular to photovoltaic, wind and biomass, and then came to found some electricity production companies.
He is madly in love with technological innovation, financial revolutions, and is always striving to stay one step ahead of the mainstream and everyday legends.
Everyone recognizes in Denny his gift as a straightforward man; the worlds he frequents and his exuberant character consecrate him as a natural "glue" between groups, generations, different planets, various humanity and its
undeniable prowess means that at times it is others who are able to involve him
in communication operations and in advertising fields.
Games village srl via ravennate 4220. real estate owner of partner sports center al50%
Finenergy srl photovoltaic energy production 100% registered office in Cesena, director and sole shareholder
Synenergy srl wind energy production Cesena registered office Shareholder 20% and sole director
tesla srl partner 51% and director. Electricity trading company (firm company)
Lily decor srl (Milan) furnishing accessories company. Sole director of the group in Italy.
Parent Company (Ukraine)